P
ara los creyentes es una vía alterna para recordar la máxima fecha del cristianismo. Los que en esto no creen, reconocen que el relato de la Pasión de Cristo tiene un poderoso guión con elementos de amor, traición, poder y un final en el que triunfa el bien aunque queda destinado a convivir con el mal para siempre.
"Desde el primer día, desde que comenzó el cine en el siglo XIX se dieron cuenta de que La Pasión era un buen tema y lo trabajaron. Antes de que acabara ese siglo ya había varias versiones", menciona Rose Marie Bernier, historiadora de los orígenes del cine y sus salas en Puerto Rico.
Una de las primeras propuestas fue Vida y Pasión de Jesucristo, dirigida por Lumiére en Francia en 1896, La Passione di Gesú, liderada por Lugi Topt en Italia en el 1897 seguida por The Sing of the Cross, Gran Bretaña, Le Christ marchant sur flots, de George Mèliés en el 1900, La Passion du Christ 1902 y La vie du Jesús 1904, ambas de Ferdinand Zeeca.
Obviamente eran versiones silentes y eran acompañadas por música. "Depende de cuándo te llegó el cine a ti y el tipo de sala que era -de primer, segundo o tercer orden- podías ver La Pasión con música en vivo o con fonógrafo", explica Bernier sobre las salas de cine en Puerto Rico.
En las de primera categoría, explica, sonaba un disco en un fonógrafo.
"Luego en algunas salas habría una pianola, un armonio y se tocaba la música solemne de Semana Santa. Ya más tardecito, en la década del 10, los cines de primera generalmente tenían una orquesta acompañando la película y, entre medio, dando concierto", menciona Bernier sobre salas como Rialto en el Viejo San Juan, Cine Olimpo en Santurce, Yagüez en Mayagüez y El Habana en Ponce.
Desde el 1897, la Cuaresma ha sido una temporada fértil para los comerciantes de películas en nuestra isla. "Esta gente tiene un producto que vender. Ellos llegaban al pueblo, iban donde el cura, le mostraban una película, él le daba su sello de aprobación, la recomendaba a la feligresía por ser un espectáculo pío y cristiano y, finalmente, ellos proyectaban cualquier otra película", expone Bernier, colaboradora de cine en Hoy en las Noticias en Radio Universidad.
Ésta cuenta que hace dos meses asistió a una iglesia católica en Humacao y el sacerdote anunció que junto a Caribbean Cinemas exhibirían una cinta alusiva a la época de Cuaresma en el cine de la cadena en Las Piedras. "Mientras más cambian más iguales se quedan", dice el refrán, entre, risas.
*****
L
a especialista, que mantiene el blog Cines de Puerto Rico y ofrece recorridos guiados por las antiguas salas del Viejo San Juan, comparte su inquietud por conocer el impacto del séptimo arte con colegas en otros países.
"Somos una red de investgadores", afirma y menciona a Fernando Urquizu.
"Él consiguió fotos de algunos de los primeros dramas y procesiones que hizo la iglesia católica después que empezó el cine y acomodaron a la gente igual que en las películas. El cine, desde el principio, tuvo un efecto mágico".
Cada generación ha tenido su "Cristo" en la pantalla grande.
En 1935, Robert Le Vignan interpretó a Jesús en Gólgota, King of kings fue un éxito en el 1961 por su grandilocuencia y en 1973, Jesucristo Superstar, de Norman Jewison e inspirada en el musical de igual nombre, fue el filme propio de la era hippie.
Los ochentas vieron La última tentación de Cristo, dirigida por Martin Scorsese, en el 1988, la cual mostró un Cristo humano -para desagrado de muchos- y la primera década del siglo XXI se enfrentó a The Passion, dirigida por Mel Gibson en el 2002 que presentaba el tortuoso viacrucis de Jesús del modo más gráfico posible. No escatimó en sangre ni en violencia.
Las nuevas generaciones tienen un nuevo Cristo, Diogo Morgado, que protagoniza la exitosa serie televisiva Son of God, dirigida por Christopher Spencer.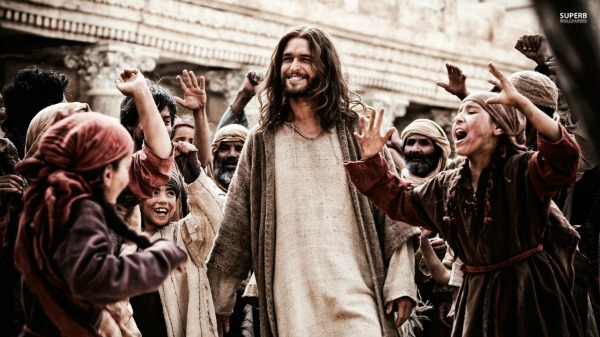 Cabe señalar que en los años 50, el éxito de las películas sobre La Pasión entre el público llevó a un boom de las películas llamadas comúnmente de "toga y sandalia".
"Todo entraba en Semana Santa, se hizo mucho en el cine italiano y en el español", dice aludiendo a cintas como Quo Vadis, Barrabás o la ultrafamosa, Ben-Hur, estrenada en el 1959 y protagonizada por Charlton Heston.
"Cuando fui a Universal Studios en Los Ángeles vi los props y los espacios que usaron para filmar y es impresionante: los carros, las peleas de gladiadores, no, no eran de cartón. Igual que las películas grandes que hicieron los italianos en esa época, la tradición era del cine realista", manifiesta Bernier.
También en los 50's los puertorriqueños mantenían la costumbre de ir al cine a ver películas seriadas. La entrada costaba 10 centavos.
"Los que están en sus ochentas ahora no tenían mucho más que hacer para divertirse que ir al cine. Las filas en Semana Santa para ver las películas de La Pasión eran largas. Luego, en los setenta y ochenta, nos quedábamos en casa para verlas en el televisor y ahora mi nieta las ve cuando quiere en su iPad", compara el acceso y el interés por la historias religiosas.
Desde los tiempos del cine silente, muchos dueños de cine en la Isla adquirían películas sobre La Pasión para guardarlas y exhibirlas anualmente en Cuaresma. Otros dueños de cine expiaban culpas con ella.
"En los setenta y ochenta, el cine Lorraine en Santurce exhibía La Pasión en Viernes Santo aunque la sala estuviera vacía. Era el único día del año que no daban cine pornográfico", declara Bernier.
Allí el drama de la carne, solo por ese día, iba en otra dirección.